Preserved rose petals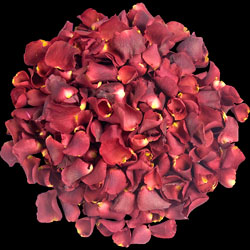 The preservation of real rose petals is a less intensive method than freeze drying but all the same an excellent way of enabling you to enjoy your rose petals for a much longer period of time.
The actual process involves a glycerine based solution, together with natural food dyes which stabilizes the colour within each petal leaving it looking and feeling as fresh as the day it was plucked from the rose.
Infact preserved rose petals feel just as silky soft as a real rose petal and will shine like the real thing aswell. They don't discolour or wilt are ideally suitable as table and cake decoration and throwing as confetti at weddings.
As an added bonus our preserved rose petal can due to the suppleness of them be used inside your invitation envelopes as they won't break apart or crumble.
Please be aware however that our preserved rose petals are not colour-fast and may stain if exposed to water. If you would like rose petals that are guaranteed not to stain, then please select from our freeze dried rose petal range.
They are available in a huge array of colours and come in either pints or jugs and can be delivered throughout the UK, Europe and the World!
Our unique online order form allows you to completley customize your order the way you want.
For more information about the process of Freeze Drying Click Here.
Freeze-dried hydrangea petals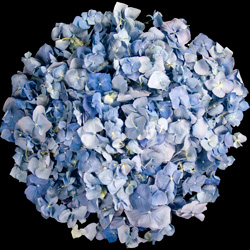 Hydrangea are a genus of around 70-80 species of flowers. The colour of the petals can tell you how much acid is in the soil the plant is growing in. For example, alkaline hydrangea produce pink coloured petals.
Our hydrangea petals are soft to the touch, their vintage look is simply stunning. These hydrangea petals would be perfect for use as confetti or even to be scattered across tables. Freeze dried hydrangea petals are natural and biodegradable, the petals will not become limp, soggy or even begin to turn brown. Another great thing about these petals is that they are stain resistant so they will not cause any problems when wet.. which could be great news for your dress.
For more information about the process of Freeze Drying Click Here.
Freeze-dried delphinium petals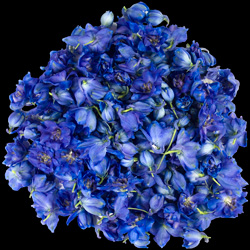 Delphiniums are a seasonal flower so we only have a limited time throughout the year to freeze dry them. We freeze dry them to order so make sure you get in quick.
We don't have every colour available in stock all of the time, so please if you require your Delphinium Petals at short notice please contact us first. Thanks.
For more information about the process of Freeze Drying Click Here.