Update: To help us stay safe we are only offering 1, 2 or 3 stems and rose petals from now right through Valentine's Day and until further notice.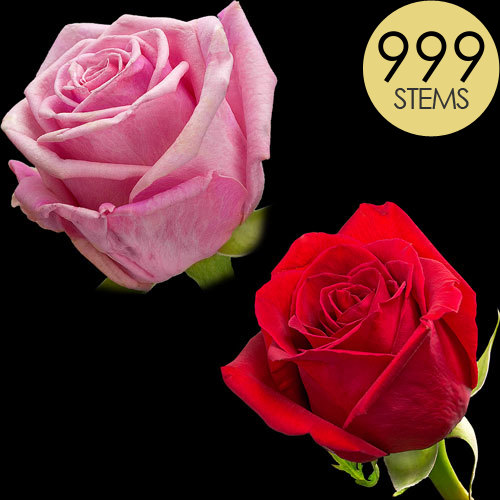 Sold Out
999 Wholesale Red and Pink Roses
Info
Style
Why Choose Us?
This is a wholesale purchase of 999 long stemmed red and pink roses presented pre-stripped in boxes, all you need to do is cut them to length and display as required.

Every one who orders 999 red and pink roses from us can also add a DIY florist pack, which includes a pair of snips and everything you need to start arranging your roses like a pro.

Extra Gifts

Make your floral gift even more special with our range of extras:

Bulk Roses (FREE)

All our bulk roses are stripped of their excess thorns and leaves and then cut to fit safely in as many boxes as it takes to deliver them.

We will always give our bulk rose customers plenty of flower food and care instructions as standard.

DIY Florist Pack (£15.00)

Upgrade to our DIY Florist Pack and receive a generous amount of lush foliage, a pair of secateurs and ribbon to make sure you can rearrange and re-cut your roses once they have arrived

Send a Rose/Save a Tree: Doing our bit... We have joined TR1BE a unique social enterprise that helps save the planet one order at a time.
FREE Delivery: Every rose has a FREE weekday delivery option. More info.
FREE Name-a-Rose Gift: Add a FREE Name-a-Rose gift card with your order.
Real Florist: That's right, we are a real working high street florist.
Know-how: Having sold our 1st rose online in 1999 there's not much we don't know about roses.
Specialist: Offering the UK's best selection of rose colours, quantities and varieties.
Longevity: We supply rose food sachets that extend the life of your rose with every order.
Class: We hand write your recipient's name on an envelope, for that personal touch.
Order Tracking: Track your order from despatch to delivery.
Extra's Lots of wonderful extra gifts you won't find anywhere else.
Copyright © Rights reserved.