Covid-19 Update. InterROSE is closed as we can't source fresh roses from the Dutch Auctions, if your looking to share messages of love and support in these difficult times please check out our InterHamper, InterBalloon and InterGin websites as a distant seller they are not impacted by the Governments closures. We hope you and your family stay safe.
Luxury Gift Box

Our 24kt gold-trimmed roses are hand made in the USA from real roses hand picked at the peak of their beauty and immediately electro-plated in layers of copper and nickel before finally being dipped in 24kt gold and trimmed in lacquer. The whole process takes nearly 4 months of painstaking hard work with over 50 steps to complete each piece.
Your rose is then presented in one of our specially made luxury presentation gift boxes with an authentication tag attached to the stem.
All in all, it really is the most luxury of once in a lifetime gifts.
Check out our full range of Forever Roses
Please note: There are other gold, silver and platinum roses out there that are usually made in Thailand and are thinner and have much smaller heads. Ours are imported directly from the U.S.A. and are superior in every detail. Also, our Gold and Platinum roses are 17in in length. Cheaper imitations are only 12in.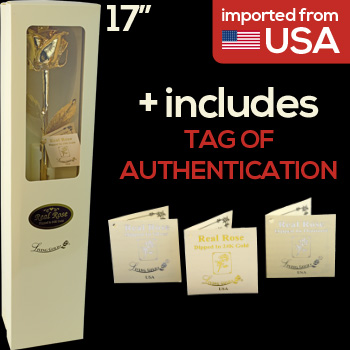 If you like all things roses as much as we do then why not sign up for our very occasional newsletter!
Copyright © Rights reserved.