Mother's Day Stuff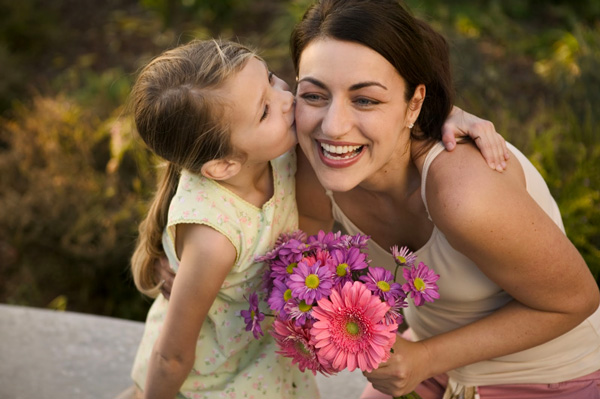 Mother's Day Facts from around the World :
During the 1600's, England celebrated a day called "Mothering Sunday." Servants would go home to see their families, bringing cakes and sweets to their moms. This custom was called "going a-mothering". Each mother would receive a simnel-cake (Latin for "fine flour) and mother's would give a blessing to their children.
Some tribes of people, like the Assam in Africa, don't call themselves families. They call themselves "maharis", or "motherhoods."
Chinese family names are often formed (begin) with a sign that means "mother". It's a nice way of honoring their moms long past.
The ancient Greeks celebrated Mother's Day in spring, like we do. They used to honor Rhea, "mother of the gods" with honey-cakes and fine drinks and flowers at dawn. Sounds like the beginnings of the Mother's Day tradition of breakfast in bed!
Mother Shipton was a Prophetess in Britain 500 years ago. She could see the future, and predicted that another Queen Elizabeth would sit on the throne of England. (QE II)
Japan's Imperial family trace their descent from Omikami Amaterasu, the Mother of the World.
George Washington once said, "My mother was the most beautiful woman I ever saw. All I am I owe to my mother. I attribute all my success in life to the moral, intellectual and physical education I received from her."
The Greek word "meter" and the Sanskrit word "mantra" mean both mother and measurement.
Mother Goose is one of the most popular of all children's entertainers. Her books and stories have been loved for many generations.
Native American Indian women have long been honored with the name, "life of the Nation" for their gift of motherhood to the tribes.
Rose Kennedy once said, "I looked on child-rearing not only as a work of love and duty, but as a profession that was fully as interesting and challenging as any honorable profession in the world, and one that demanded the best that I could bring it."
Buddha honored mothers when he said, "As a mother, even at the risk of her own life, loves and protects her child, so let a man cultivate love without measure toward the whole world."
In the Bible, Eve is credited with being the "Mother of All the living."
The mother of Mother's Day is Anna Jarvis of Philadelphia. She began the campaign that brought about the official observance of Mother's Day in the United states. Her mother died, and Anna wanted all mothers to be remembered. She asked that white carnations be the official mother's day symbol. In 1914, President Woodrow Wilson signed the orders that made Mother's Day a national holiday. Just nine years later, Anna filed a lawsuit in an effort to stop the over- commercialization of Mother's Day. She lost her fight. Now, cards, letters, candy and dinners out mark Mother's Day for most families. Anna had hoped for a day of reflection and quiet prayer by families, thanking God for all that mothers had done.
Mother Earth is also known as "Terra Firma". That title is a Latin translation of some lines from one of the Greek poet, Homer's, greatest poems.
Mother Teresa's Wisdom - Her Favorite Sayings :
I do, because I must do something.
People are unreasonable, illogical and self-centered. Love them anyway.
The good you do will be forgotten tomorrow. Do good anyway.
Honesty and frankness will make you vulnerable. Be honest and frank anyway.
What you spent years building may be destroyed overnight. Build anyway.
Give the world the best you've have and you'll be kicked in the teeth. Give the best you've got anyway.
Calcutta can be found all over the world if you have eyes to see.
In the developed countries there is a poverty of intimacy, a poverty of spirit, of loneliness, of lack of love. There is no greater sickness in the world today than that one.
When you have nothing, then you have everything.
God loves a cheerful giver. She or he gives best who gives with a smile.
It is not the magnitude of our actions but the amount of love that is put into them that matters.
Never lose heart. We always -- thank God...can smile. At least you can smile if nothing else.
Let there be kindness in your face, in your eyes, in your smile, in the warmth of your greeting. Always have a cheerful smile. Don't only give your care, but give your heart as well
Things My Mother Taught Me :
My Mother taught me LOGIC... If you fall off that swing and break your neck, you can't go to the store with me.
My Mother taught me MEDICINE... If you don't stop crossing your eyes, they're going to freeze that way.
My Mother taught me TO THINK AHEAD... If you don't pass your spelling test, you'll never get a good job!
My Mother taught me ESP... Put your sweater on; don't you think that I know when you're cold?
My Mother taught me TO MEET A CHALLENGE... What were you thinking? Answer me when I talk to you...Don't talk back to me!
My Mother taught me HUMOUR... When that lawn mower cuts off your toes, don't come running to me.
My Mother taught me how to BECOME AN ADULT... If you don't eat your vegetables, you'll never grow up.
My mother taught me ABOUT SEX... How do you think you got here?
My mother taught me about GENETICS... You are just like your father!
My mother taught me about my ROOTS... Do you think you were born in a barn?
My mother taught me about the WISDOM of AGE... When you get to be my age, you will understand.
My mother taught me about ANTICIPATION... Just wait until your father gets home.
My mother taught me about RECEIVING... You are going to get it when we get home.
And the all time favourite thing - JUSTICE One day you will have kids, and I hope they turn out just like YOU...then you'll see what its like.
Why Choose interROSE?
Rose Specialists
UK's best selection of rose colours and quantities all at blooming great prices.
Real Florist
Yep, that's right we are a real hard working High Street Florist selling online since 1999.
Free Delivery
Free delivery available as well as Pre 9am, Pre 10.30, Pre 12noon, Saturday and Sunday services.
Extra Gifts
Customise your order to your heart's content with our huge range of unique extra gifts.
You may also be interested in...
Copyright © Rights reserved.