History of Sunflowers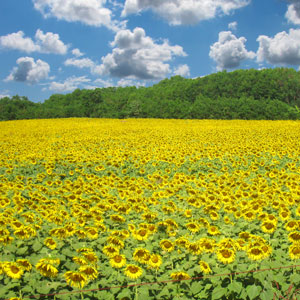 According to Greek mythology, the sunflower was once a water nymph and the daughter of Oceanus and Tethys called Clytie. She was srtikingly beautiful and fell deeply in love with Apollo, the God of the Sun.
Unfortunately for her Apollo did not return her affections and poor Clytie went slightly mad sitting naked on a rock watching her beloved sun from dusk until dawn.
Gradually, her golden hair started to resemble yellow petals, her legs became the stem and her face became a flower. In her new form, Clytie continued to gaze at her sun from morning to night, as did all of her children, the sunflowers we see today.
This is actually a modern twist as the flower in question was actually a turnsole that is also known for turning in the direction of the sun because sunflowers actually originate in North America and did not exist in the ancient greek world.