Year of Roses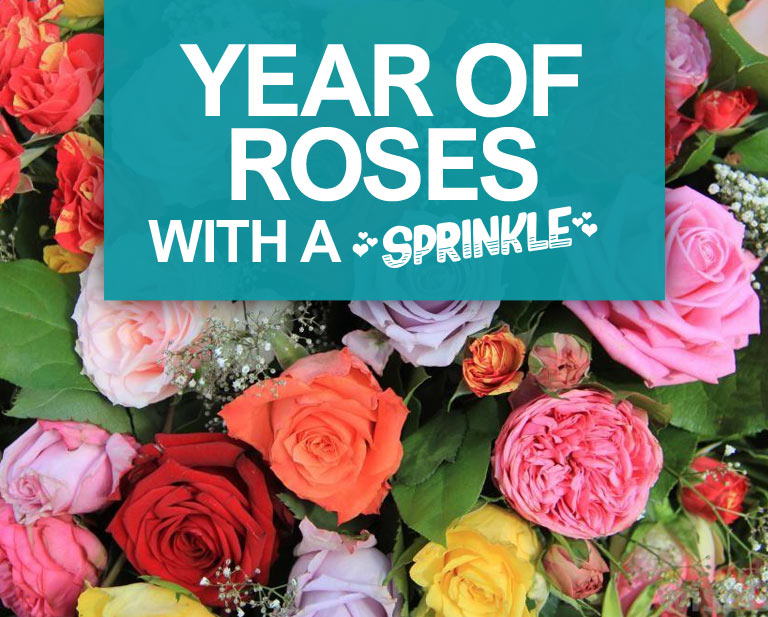 The ultimate gift for the rose lover of your life. It starts off with your choice of rose and is followed by a year's worth of hand picked unique rose varieties alongside a very generous sprinkle of seasonal and rose related surprise goodies every 1, 2 or 3 months. Now that's what you call a Rose Gift.
How it works...

Join our Rose Club
Rose Varieties to die for
With so many wonderful roses to choose it is our great pleasure to pick a unique rose variety to send, we are always looking to surprise and delight in equal measure.
With each unique rose variety comes accompanying notes detailing the rose of the month.
Our Bouquet Rose Club also comes with differing stems of foliage to perfectly compliment the roses.
Send as a gift every 1, 2 or 3 months for a year or just join our Rose Club
Backed by the peeps behind interGIN, interHAMPER and interBALLOON so you know you're in good hands.
With a Sprinkle!
A Sprinkle of Romance
Your first delivery will be in the colour of your choice from our full range and upgraded to either our Luxury Single Rose Box or a Luxury Bouquet for free.
All subsequent deliveries will be sent in letterbox friendly packaging to ensure that they get delivered first time everytime.
Free Royal Mail tracked 24 delivery (not tracked 48) anywhere in the UK. We do this to ensure our roses only take 24 hours to be delivered.
Exclusive promotions and discounts just for you on all our "inter" gift related websites, so no need to pay full price on your Roses, Gins, Hampers, Flowers and Balloons ever again.
You're in Control
No Strings attached
Pay upfront and save with no monthly commitments.
Exactly the same roses as our Rose Club members get with the added bonus that your recipient will remember your wonderful gift for the whole year.
We have an honest no fuss approach, after all it's your rose club for a year and we want to make it as enjoyable as possible.
More Questions?
Please visit our Rose Club F.A.Q. or Get in Touch, we are always happy to help.
We look forward to welcoming you to our Rose Club!
Copyright © Rights reserved.