Letterbox Single Roses
We also offer a range of Luxury Single Roses in a black, silk-lined box but it isn't letterbox friendly.
Please Note: If you wish to add larger extra gifts, such as a big teddy bear then you must select one of our Luxury Single Roses as of course the letterbox roses shown on this page cannot exceed a certain box size.
Our single rose styles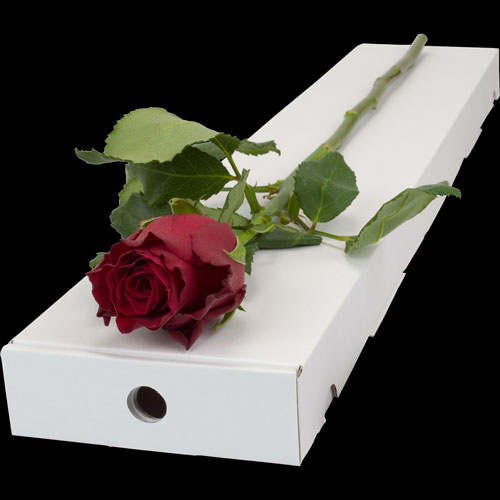 Presented in a Letterbox friendly White Gift Box - FREE
For those who want to keep it simple, our classic single stems come with a hand made colour coordinated bow and are presented in folds of matching tissue paper in one of our white gift transit boxes.
Presented in a Luxury Silk Lined Black Box - FREE
For those looking for a more luxurious presentation, ou luxury single stems come with a hand made colour coordinated bow and are presented in one of our ebony black gift boxes nestled in folds of white silk.
Upgrade to the ultimate in romance the "Casanova" - £12.00
The "Casanova" takes romance to another level putting Cupid himself to shame with it's captivating contents that include the following charming additions:
I love you love heart shaped chocolate
Couple of Kiss me lip chocolates
Hand made love heart bow
Heart shaped pin in the centre of your rose
I love you pick
Red love heart pick
Love heart shaped floating candle
Couple of packets of "Love Heart" sweets
Sprinkle of silk red rose petals
Handfull of love hearts gems
Splash of fabric love hearts
Shower of red and iridescent pink heart confetti
Generous dusting of red and iridescent glitter
For Valentine's Day we use an additional wooden love heart pick that says Happy Valentine's Day
Check out our other roses:
Copyright © Rights reserved.